Since it became legal in Switzerland, cannabidiol has never been so much in the news. Many stores have appeared and retailers have multiplied.
One might think that this is a good thing, but it also poses a major problem: where to buy quality cannabidiol, when anyone can offer it for sale? That's what we'll look at in this article.
We will present you the main issues to buy the right CBD product for you. We will also share with you the approach of Naturalpes, an innovative Swiss company that wanted to distinguish itself and passed the ISO 9001: 2015 certification. This choice confirms the special attention given to the physical control of products and the management of quality processes.
What is cannabidiol and what are its effects?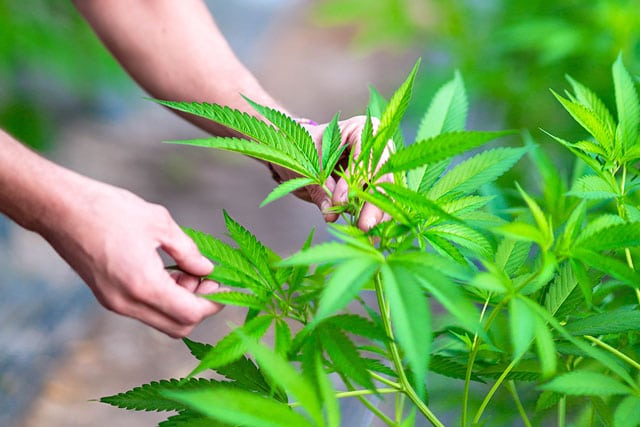 As cannabidiol (CBD) becomes more popular around the world, many people are beginning to use it in different forms.

CBDoil, sometimes called cannabis oil or hemp oil, is one of the leading products in this growing market. It is made by extracting CBD from the flowers, stems and leaves of the cannabis plant. The resulting extract is then mixed with a carrier oil to make it edible.

Cannabidiol (CBD) is one of about 100 cannabinoids among nearly 500 known components of cannabis to date. It is a molecule which arouses a lot of interest today because it is believed to have many effects: antioxidants, anti-inflammatory, anti-epileptic, anxiolytic, antidepressant, anti-psychotic and others.
CBD is known to ease anxiety, relieve chronic pain and boost the immune system. Scientists believe it may also help combat the symptoms and side effects of some serious diseases - studies on this are still ongoing.
What does the law say about the sale of cannabis in Switzerland?
As you may have noticed, many shops are developing in Switzerland offering "legal cannabis". In principle, cannabis is a plant that is forbidden to be marketed in Switzerland, so what does the Swiss law actually say on the subject?

Various products containing CBD (cannabidiol) have been put on the market in Switzerland for a few years now, and more particularly since the summer of 2016.
The production and sale of cannabis is regulated in Switzerland, particularly the THC content, which is psychotropic. Unlike THC, another cannabis derivative, CBD is not intoxicating and has no psychotropic effect. In Switzerland, cannabis products are not illegal according to the Federal Law on Narcotics (LStup) if they contain less than 1% THC, a limit set in 2011 to separate illegal cannabis from other hemp products.

It is therefore perfectly legal to buy a cannabidiol product in Switzerland, as long as it complies with Swiss standards. What's more, the state carefully regulates the market, since each product is subject to approval by one of the Federal Offices, such as Agriculture, Public Health or Security.
It is important to know that this legislation evolves rapidly depending on the product category. In addition to the federal regulations (LStup), Naturalpes takes care of the regulatory watch as part of its ISO 9001:2015 certification, which means that all laws, directives, obligations and risks are managed internally on a daily basis.
The traceability of the products is guaranteed and laboratory controls are carried out as foreseen in the procedures of the quality system for a certified company.
How to recognize a quality CBD product?
The first thing to look for when choosing a quality CBD product is its origin. Check the origin of the plants with which they are made. They should be industrial hemp plants that are grown according to well-defined standards. It is highly recommended that you choose CBD products that include natural plants, without pesticides or other chemical substances that alter their quality (which can sometimes even be harmful to your health).
The method of extraction of the cannabidiol comes into play. This is one of the major criteria in the selection of quality CBD products. There are several ways of extracting cannabidiol, and they are all different. The cold extraction technique preserves the cannabinoids by separating them from the CO2. This technique results in high quality CBD products with high purity and no chemical residues.
The transparency of the brand towards its products is an essential element. A seller who remains discreet about the origin of his products is never very reassuring. Before buying, take the time to discover the brand, to find out about the composition of the products, the origin of the plants, the method of extraction of the cannabinoids used, the type of oil (Full Spectrum, Broad Spectrum or isolate) as well as the quantity of CBD used.
Take a look at the prices of the oils sold! If the price is too low or unaffordable, it may be a sign of poor quality. Quality CBD products, without being overpriced, are more expensive than mediocre oils. The cost of extracting CBD, but also the way in which the hemp plants are cultivated, influence the price of the products.
How to get quality cannabidiol?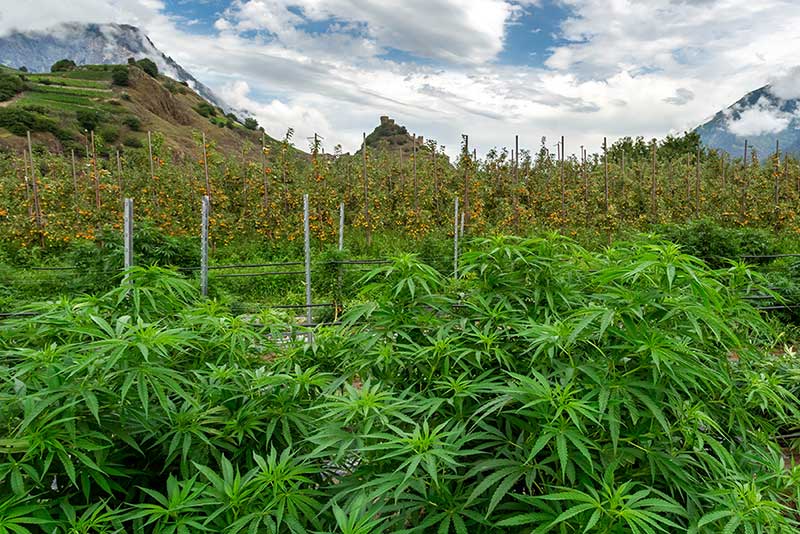 It is possible to buy cannabidiol online. E-commerce sites offer an incredible variety of products. Some of the most popular products are: CBD oils, CBD flowers, CBD cosmetics, CBD accessories, tea and herbal teas, CBD for pets and much more.
Thanks to the evolution of CBD sales in Switzerland, you can also buy quality products in physical shops.
The cannabidiol market has become really organised and structured. There are now a large number of services in Switzerland where quality is present. 
Switzerland is well known in the CBD industry as it has some of the best producers and manufacturers in Europe and the world.
CBD shop: comparison CBD On-line and CBD Shop
With the emergence of numerous online shops, producers, wholesalers and CBD shops, it has become difficult to find one's way through all these possibilities.
The next question is legitimate: which sales channel should be preferred? What are the advantages and disadvantages of each?
Benefits of buying CBD On-line
Buying CBD online gives you less stress. You choose the product that suits you, you will have plenty of time to familiarise yourself with CBD products and compare features, without being rushed by the next customer.

Buying CBD online also saves you hours in transport or traffic jams to get to a physical shop, especially if it is located far away from your home. You also don't have to worry about opening hours, holidays and the like, which are the main drawbacks of physical shops.

Online orders can be placed at any time of the day, night and throughout the week, including Sundays. Delivery is relatively fast, between 24 and 48 hours, in a neutral, recycled and recyclable package.
 
In case of questions or hesitation about a product, the e-commerce site offers an online customer service. They are available 24 hours a day and will respond to you within 12 hours. This way, you benefit from the expertise, experience and sound advice of a specialised company.

Some sites go even further by offering online chat services (you speak directly with an advisor) from your sofa, during your online purchases. They will answer your every request or question and advise you if you are unsure of which product to buy.

Promotions and flash sales also allow you to get products for less than you would normally pay, as well as immediate discounts on the entire online shop offered by certain brands for special occasions.
The disadvantages of buying CBD On-line
It is important to choose your online CBD store. There are many players on the market, more or less honest. Today there are more and more players on the CBD market, so beware of scams or unscrupulous sites.

Look at the reviews published on the brand and the products sold, contact customer service, ask questions about the products (origin, composition, analysis ...), demand organic and environmentally responsible products, check that payment by credit card is available and secure. At Naturalpes, we collect and share the opinions of our customers through the platform Trustpilot platform, which allows us to authenticate the veracity of comments and customer feedback. You can read the different user reviews to better make your choice and give you an insight into the quality of the service and products.

The main drawback of buying CBD online is the impossibility to check the product yourself before placing the order. Sure, you are given information about the products, but it may not reflect the reality.

As a result, there is a greater chance of buying a poor quality product online than in a store.

In addition, possible delays in orders may occur. As with any merchant site, order processing is quite complex. This can lead to delays in deliveries, sometimes independently of the merchant site. This point must be taken into account.
The benefits of buying CBD in a shop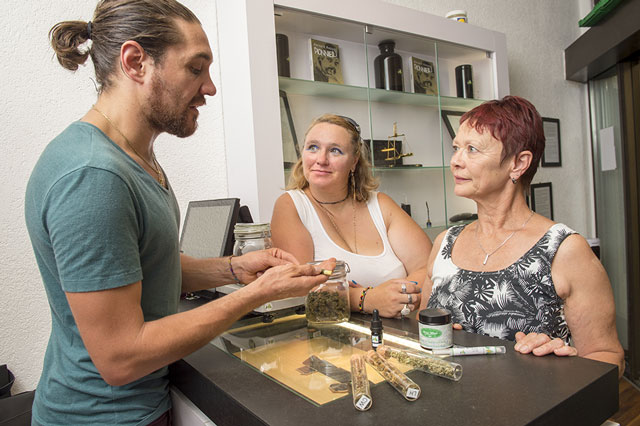 Many CBD shops are constantly opening their doors. Choosing a physical shop to buy CBD in Switzerland or elsewhere is advantageous in several ways. This option gives you the opportunity to test the quality of the product. If you want to buy CBD flowers, for example, you can get an idea of their characteristics such as smell, colour or freshness by going to a shop.
Going to a shop also gives you the opportunity to ask for advice on purchasing or use.
In addition to the quality of the products, the advantage ofbuying CBD in a boutique lies in the notion of advice. You may not be familiar with cannabidiol, or perhaps you're looking for CBD products for the first time? 
You need someone who can sell you a product, but also and above all inform and guide you. It is therefore in your interest to go to a shop and ask for advice from a CBD specialist who will be able to meet your expectations.
The disadvantages of buying CBD in a shop
Buying CBD in a shop can sometimes be confusing. The first step is to identify the shop you need to visit. In search of a trusted seller, you may have to browse several shops before finding the one that suits you.
In addition, it may happen that you cannot find the product you are looking for in the shop. In this case, there is no need to go to the shop.

As mentioned above, opening hours, holidays and other closures can be a hindrance to those who want to go to the shop and order their products without waiting.

Travel is also a consideration. The location of the shop may not be suitable. If you have to travel a lot of miles to get to the shop and make regular trips back and forth, it can quickly become unpleasant.
CBD Shop: order your products from Naturalpes
In a world where everything, or almost everything, is played out on the Internet, Naturalpes also bets on proximity and exchange. A look, a smile and, above all, clear explanations are part of the DNA of Naturalpes. This is why our company has two stores in Valais, one in the small town of Martigny and the other in the Roman city of Sion.

Naturalpes also has an online site, where we offer a wide range of products made from a premium quality CBD cannabis, grown in the beautiful mountains of the canton of Valais, Switzerland.
This is carefully selected by the experts at Naturalpes in order to offer the best CBD flowers and to elaborate oils, cosmetic products, teas and infusions of the highest quality. Naturalpes also offers oils specially designed for pets.
CBD Switzerland 100% natural: high quality products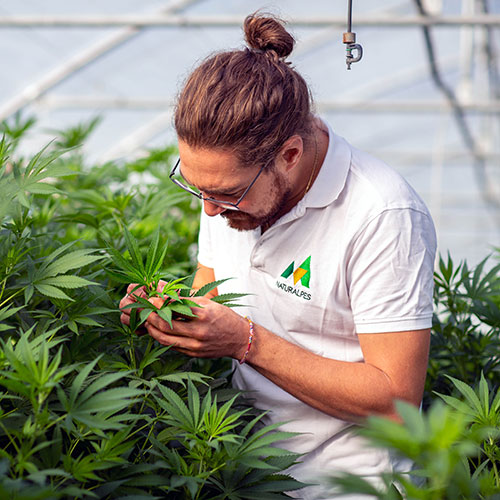 At Naturalpes, we are against the use of any chemical additives in products made from CBD cannabis plants. We require our growers and partners to use no chemical fertilizers, no synthetic pesticides and no fertilizers. 
What you find in Naturalpes products is CBD cannabis flower and nothing else. Of course, we need hemp seed oil or coconut oil (certified organic) to dilute our oils, as well as vitamin E for its conservation.

Our partners understand this and share the values of Naturalpes, notably the strict respect of plants, biodiversity and nature in general. Our CBD cannabis plants are thus naturally healthy, organic, and develop optimal flavors and properties.
Conclusion
Most online CBD shops, offering quality products, exist physically. If you opt for a physical shop, the quality of your product will not vary whether you buy online or in-store. 
So, you will have understood that buying CBD online offers you many advantages but buying in shop remains a unique experience, as it allows you to have a physical contact with the seller, which is not negligible.
Naturalpes manages and maintains 7 key processes in its ISO 9001:2015 quality assurance organization in order to control the level of safety and quality of the products delivered. All the risks inherent to the products and the organization are identified and reduced in order to satisfy you as much as possible.

At Naturalpes we own and especially we control in a very precise way these two sales channels. Our team will be pleased to answer each of your requests!